When:
July 1, 2018 @ 10:00 am – July 27, 2018 @ 5:00 pm
2018-07-01T10:00:00+01:00
2018-07-27T17:00:00+01:00
Where:
Stable Wing
Castletown
Celbridge, Co. Kildare
Ireland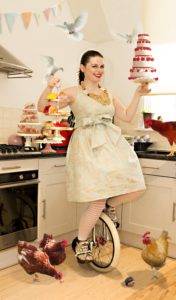 Artist Siuan McGahan returns to Ireland with her digital portrait series "Expectations are just future disappointments," combining these pieces with limited run performances of her virtual reality film "All Physics in a Ferment." Together, these form the exhibition All that We See or Seem, which we are delighted to host at Castletown this summer.
"Expectations are just future disappointments" is a series of 12 portraits which explores gender roles and contemporary motherhood as they manifest in the age of social media. Though created prior to the widespread global upshake that followed the #metoo and #timesup movements, these timely pieces continue the conversation regarding the patriarchal construction of our ideas about the self.
"All Physics in a Ferment" was created in response to the photographic portrait series "Expectations are just future disappointments." In this Virtual Reality self-portrait, Siuan delves deeper into the performativity of gender roles and personal identity by casting herself as Sisyphus in a modern VR fairy tale. This 360 degree film (live-action, non-interactive virtual reality) is an infinitely looping exploration of the conjoined surreal and mundane. See www.castletown.ie for performance schedule.
Siuan McGahan is a multi-platform visual artist from Dublin, Ireland. Though Siuan originally studied Mathematics and Philosophy at UCLA (Los Angeles), her varied career path has taken her from Mission Simulation and Instrument Modelling at NASA-JPL through a career in visual effects for feature film. She has worked on such films as Lord of the Rings: Return of the King and The Chronicles of Riddick, and in 2014, Siuan was a participant on Sky Arts Portrait Artist of the Year. Her artwork is held in public and private collections worldwide.