When:
May 5, 2019 @ 3:00 pm – 4:00 pm
2019-05-05T15:00:00+01:00
2019-05-05T16:00:00+01:00
Where:
Hunting Room
OPW Castletown House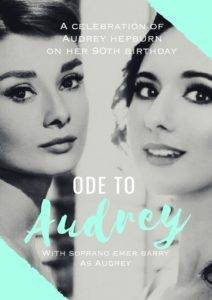 "I'm half-Irish, half-Dutch, and I was born in Belgium. If I was a dog, I'd be in a hell of a mess! 
Audrey Hepburn
In celebration of what would have been her 90th birthday, the story of Audrey Hepburn is brought to life in Castletown House on May 5th. This unique show tells the story of Audrey's life and personality through music, punctuated by famous quotes from the lady herself and from those who knew and loved her. It will feature songs from the Golden Age of Hollywood and well-known classical tunes that link Audrey to her time growing up in the Second World War, and to her difficult relationship with her father.
Soprano Emer Barry plays Audrey and will be accompanied by Harp and Violin on the day.
"If I'm honest I have to tell you I still read fairy-tales and I like them best of all" Audrey Hepburn